These 5 Minute Rolo Stuffed Rice Cakes are sure to be a gluten-free hit at your next get together!
Hey y'all! It's Stephanie from Sustaining the Powers here again today. If you are a regular over at my blog, you'll know that I share a lot of gluten-free recipes. I'm not actually gluten-free myself, but many of the people who are near and dear to me are gluten-free. That means that I almost always need a quick gluten-free treat for a church gathering or a dinner party. These rolo stuffed rice cakes come together in just 5 minutes and are sure to be a crowd-pleaser!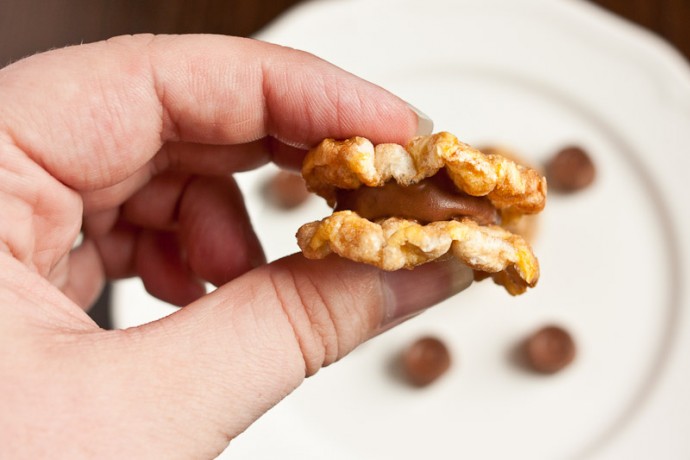 If you've been on Pinterest recently, you may have seen the Rolo Stuffed Ritz Crackers making the rounds. They're a pretty incredible mix of salty sweet, and I really can't make them anymore because we eat stacks of them in a sitting. These are my take on a gluten-free version of those Rolo stuffed Ritz crackers, and I think they might be even more addicting!
I made these with mini Rolos since they come in a bag already unwrapped. (I think all these unwrapped minis are really just for those of us who want to bake with them.) If it's as hot where you are as it is here, I really recommend that you don't leave a bag of them in the car while you "run into Ikea really quick." I'm just guessing some of you might do that, and I would tell you that there is no "real quick" when Ikea is involved, so you may melt all your mini Rolos together and have to freeze them then cut them apart to use them in this recipe while your husband laughs with you. You also might need to watch them in the oven and not get distracted, forget them for 15 minutes, and melt your rice cakes and chocolate into burned oblivion. You may end up crying while eating the melted remains of your bag of Rolos and then going to the store for more of both of them. This is really just a guess though.
A few notes on flavor options: In the photograph, these are made with caramel corn rice cakes and they're a super sweet and crunchy treat with a hint of salty popcorn when you crunch into them. If you make them with apple cinnamon rice cakes they taste like caramel apples. My favorite though is the salty, buttery mix of buttered popcorn mini rice cakes and the Rolos. I am a salty sweet fanatic!  I hope you enjoy these as much as I do, and you make about 3 times more than you think you'll need. They disappeared so fast!!
Ingredients
1 large (7oz) bag mini rice cakes (caramel corn, buttered popcorn, or cinnamon apple are my favorites for this recipe)
1 (8oz) bag Rolos chocolate covered caramel candies or Rolos Minis
Instructions
Preheat oven to 350 degrees.
Arrange half your mini rice cakes out on a parchment-lined cookie sheet. They're often curved, so I find it easiest to have them curve upwards to cup the chocolate.
Place 1 Rolo on top of each mini rice cake.
Bake for 3-5 minutes, or until Rolos have softened. Don't overcook or chocolate will scald.
Remove from oven and immediately press a second rice cake on top of the Rolo to make a sandwich.
Refrigerate sandwiches until Rolos have solidified again.
Store leftovers in an airtight container.
https://mycookingspot.com/5-minute-rolo-stuffed-rice-cakes/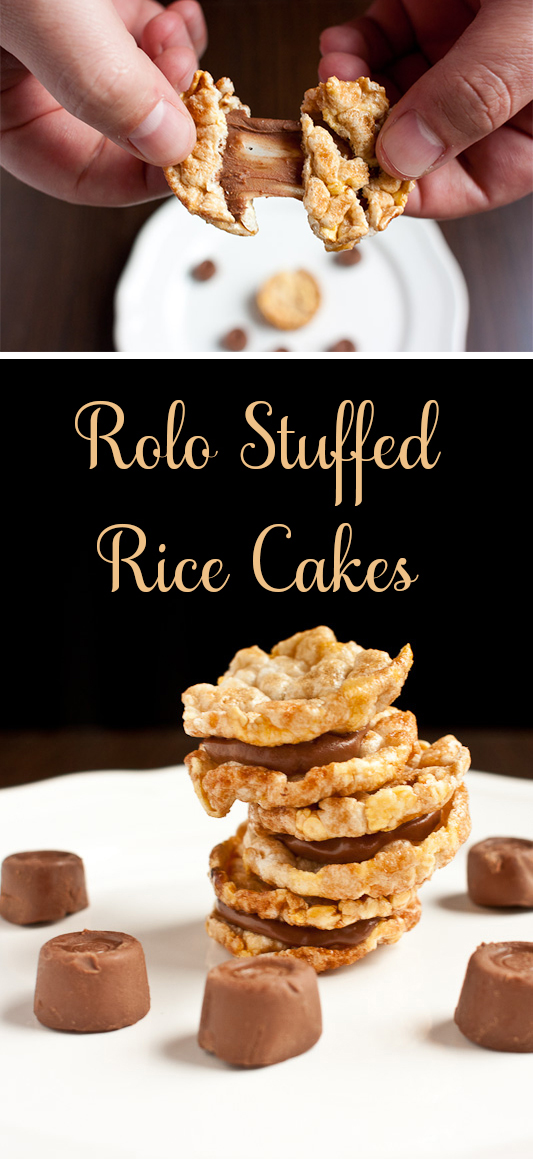 The following two tabs change content below.
Stephanie first learned to cook as a young girl in her grandmother's kitchen. As an Austin, Texas native, Tex-Mex cuisine, BBQ, and comfort food is in her blood. She loves to travel, and her favorite souvenir is picking up an authentic, local recipe, so her cooking has influences from all over the world. She's passionate about making cooking accessible to everyone and helping you provide sustenance to your family. (Hence her blog name:
Sustaining the Powers
) She also loves hosting "framily" meals in her Denver, Colorado home. When she's not in the kitchen, Stephanie is also a web developer, a geek, a foodie, a Whovian, a book-addict, and (more importantly) a disciple of Christ and a wife to Nick, the most amazing man she knows.
Latest posts by Stephanie Powers (see all)