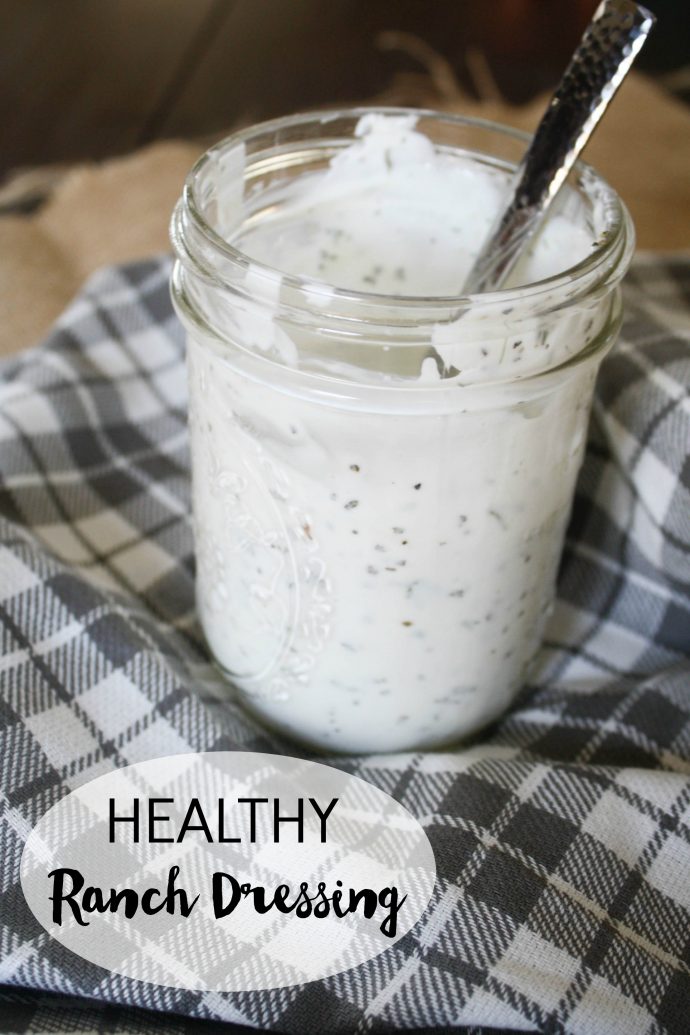 You won't go back to store-bought ranch dressing once you see how easy it is to make this healthy version! It's perfect for salads or as a dip for veggies.
It's Jenna from A Savory Feast, and I'm excited to share another recipe with you today! Lately I've been paying closer attention to what is in the products I buy at the grocery store and looking for alternatives.
Store-bought ranch dressing typically contains a lot of preservatives, sugar, and other not-so-great ingredients. So I decided to experiment with making my own, and it was surprisingly easy!
This ranch dressing is made with greek yogurt, milk and a bunch of yummy spices to give it the perfect flavor. It's creamy and delicious, but you don't have to feel guilty about eating it! Greek yogurt is good for you because it's high in protein and calcium.
This dressing goes great with your favorite salad! I made delicious salad for dinner using romaine lettuce, tomatoes, hard boiled eggs, and grilled chicken. We used this dressing instead of store-bought, and it was so good!
Make this dressing as a dip for veggies, too! You can adjust the amount of milk you use in order to make the dressing thicker for a dip or thinner for a salad dressing. Next time you have guests over, make a thick version of this dressing and serve it with some carrot sticks, broccoli, cherry tomatoes and more.
Ingredients
1 cup greek yogurt
1 tsp garlic powder
1 tsp onion powder
1 tsp salt
1 tsp pepper
1 tsp parsley
1 tsp basil
1 tsp dill
2 tbsp milk (I used almond milk but any kind will work)
Instructions
Mix the greek yogurt with the garlic powder, onion powder, salt, pepper, parsley, basil and dill.
Add in the milk, 1 tablespoon at a time until ranch dressing reaches desired consistency (you may want to add a little more milk if you want a thinner dressing or use less milk to make a thicker dressing for dipping veggies).
Store ranch dressing in the fridge until you are ready to use it.
https://mycookingspot.com/healthy-ranch-dressing/
What is your favorite kind of salad?
The following two tabs change content below.
Jenna is a food blogger at A Savory Feast where she shares creative recipes, kitchen tips and tricks and foodie road trips. She is an advocate for a healthy, balanced lifestyle. Her blog reflects that with lots of better-for-you recipes and tips on eating healthier. Of course, everything in moderation! She likes to enjoy an indulgent treat every so often. When she's not cooking or blogging, Jenna enjoys visiting the beach, traveling, playing volleyball or relaxing with a good book.
Latest posts by Jenna Owens (see all)