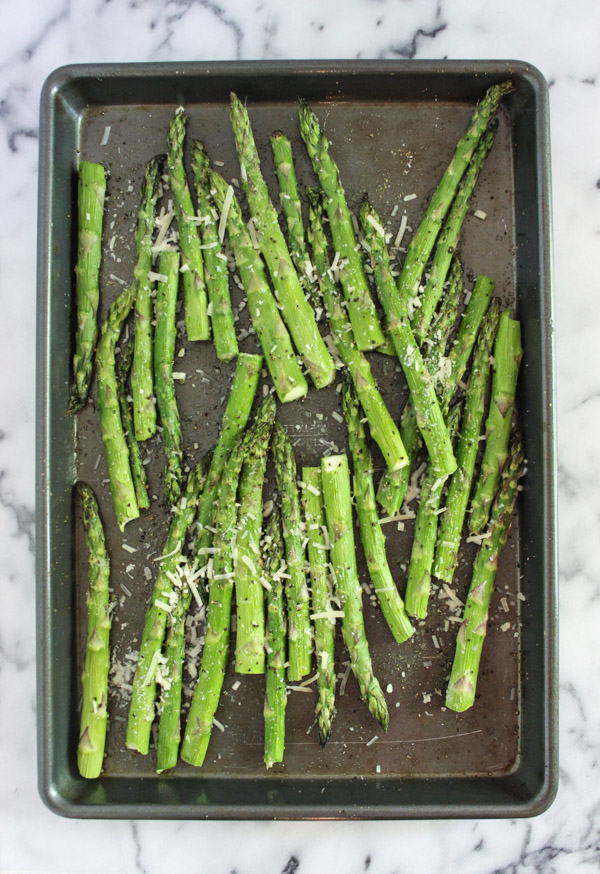 Apparently I'm in a lemon mood lately. Last time I shared a recipe with y'all, I posted this lemon dijon brussels sprouts salad. Something about lemon just feels so fresh and springy. And now that it's April, I want everything to taste like spring! Luckily, asparagus are in season in the spring. They're one of my favorite side dishes.
I must also be on a side dish kick. I've been trying to make more of an effort lately to have a well-rounded meal. It's easy for me to get in the habit of just having a main dish. I think it must be because I put a lot of effort in to the main dish so I don't leave enough time for a side dish. But, then I'm left feeling unsatisfied. A main dish isn't a meal by itself! So, that's why I've been trying to focus on side dishes more and been sharing them with you!
I think you'll love these lemon garlic parmesan asparagus. They're light, zingy and compliment so main main dishes. Garlic and parmesan were made to go together! Plus, it's a recipe that comes together in less than 30 minutes. So you've got no excuse! I hope you'll join me in ushering in spring with these lemony asparagus.
Lemon Garlic Parmesean Aspargaus
Ingredients
1 pound asparagus, washed and ends removed
1 tablespoon olive oil
1 teaspoon garlic powder
salt and pepper, to taste
1 tablespoon lemon juice
2 tablespoons shredded Parmesean cheese
Instructions
Preheat the oven to 400 degrees. Prep a large baking sheet with cooking spray.
Pour your prepped asparagus on the baking sheet. Evenly pour the olive oil, garlic powder, salt and pepper on the asparagus. Toss to combine and make sure the asparagus is evenly covered.
Bake the asparagus for 15 minutes.
Once the asparagus has baked, remove from the oven and immediately top with lemon juice and parmesean.
Serve immediately.
https://mycookingspot.com/lemon-garlic-parmesean-aspargaus/
The following two tabs change content below.
Becca Davis is the blogger behind Two Places at Once. She's a native Floridian living in Austin, TX. Becca grew up helping both her grandmother and mother in the kitchen. She's a completely self-taught cook with a passion for baking. Through her blog, Becca tries to make the kitchen more accessible. She's believes that cooking should be fun and doesn't need to be complicated. Becca lives with her college sweetheart Bud, and their very opinionated cat, Libby.
Latest posts by Becca Davis (see all)