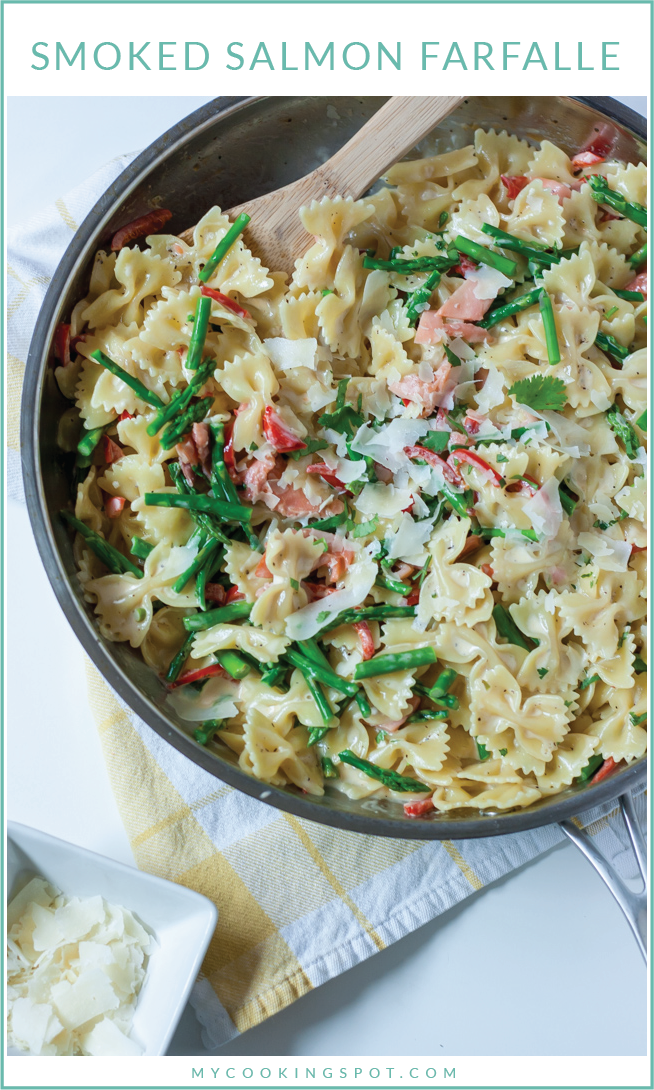 My husband and I participate in a weekly produce co-op. Every Saturday morning, we pick up a basket full of delicious fruits and veggies–we don't know beforehand what we'll be getting each week. This week I was pleased to discover two big, beautiful bunches of asparagus and red bell peppers. It was a sign–we were having smoked salmon farfalle for dinner.
This dish is one of my favorites that we served in the restaurant I worked in during high school–I still have my battered, stained pocket size notebook with the recipe I scribbled down as the chef taught me to make it. My husband absolutely loves this dish too, so anytime asparagus is on sale, we make this pasta. If we're really craving it and asparagus isn't in season, we'll substitute frozen peas.
The sauce for this pasta couldn't be easier to make–it's literally just cream. We undercook the noodles just slightly and finish simmering them in the cream. The starch from the pasta helps thicken the cream while it's reducing so you're left with a sauce that clings perfectly to the noodles.
The bright flavors of the asparagus and red bell pepper are a perfect contrast to the smokey, saltiness of the smoked salmon–it's really a unique flavor profile that I know you will love!
Ingredients
1/2 lb Farfalle pasta
1 bunch asparagus, cut in 1 inch pieces
1 TBS butter or olive oil
1 large bell pepper, julienned
1 clove garlic, minced
1 1/2 cups heavy cream
3 oz smoked salmon, diced
Salt and pepper
Freshly shaved Parmesan and chopped parsley for garnish (optional)
Instructions
Bring a heavily salted pot of water to a boil. While water is coming to a boil, set aside a bowl of ice water.
Blanch the asparagus by adding it to the boiling water for 30 seconds, then remove using a wire strainer or slotted spoon. Place asparagus in the ice water to stop the cooking.
Add the pasta to the boiling water and cook for about 8 minutes, or until just underdone.
While the pasta is cooking, heat the butter or olive oil in a large saute pan over medium heat. Add the red bell pepper and saute for 30 seconds. Add the garlic and saute 30 seconds more. Add the heavy cream and allow to reduce.
As soon as the pasta is just underdone, drain it and add it directly to the pan with the cream and bell peppers. Simmer until the pasta is al dente and the sauce has thickened.
Drain the ice water from the asparagus and add the asparagus to the pan to warm up.
Remove the pan from heat and stir in the smoked salmon. Season with salt and pepper to taste. Serve garnished with freshly shaved Parmesan cheese and chopped parsley.
https://mycookingspot.com/smoked-salmon-farfalle/
The following two tabs change content below.
Jana is a wife and a momma. Food has always been a passion of hers, which led her to study Culinary Arts in college. After having her son, she put her dreams of owning her own restaurant on hold for a while and discovered a love for sharing her life and her culinary talent through blogging. Jana could easily spend all day creating magic in the kitchen...if she didn't have to do the dishes afterwards.
Latest posts by Jana Tolman (see all)