Roasted mixed nuts are the perfect snack! They're lightly sweetened and a little bit spicy making for a wonderful flavor combination.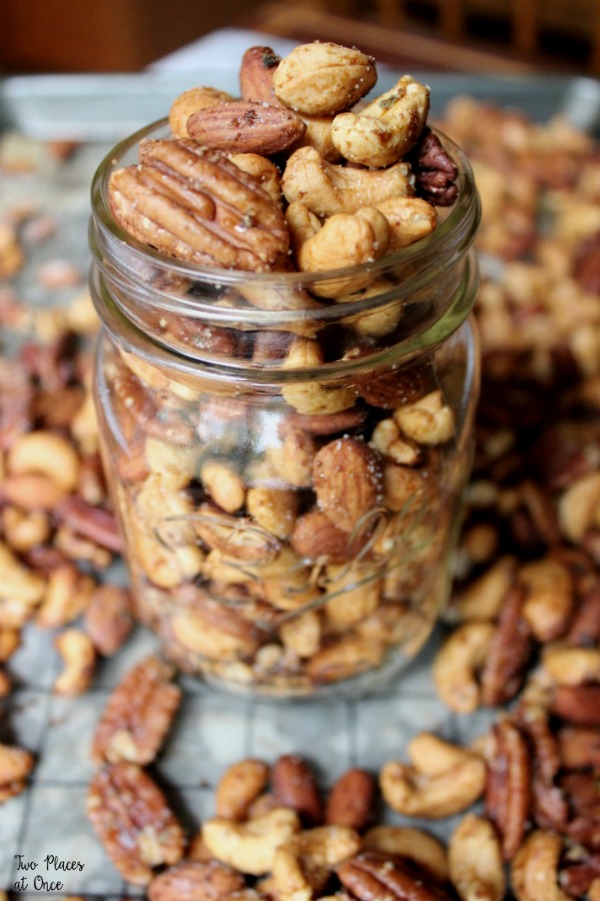 Hi y'all! It's Becca from Two Places at Once and I'm so excited to share these roasted mixed nuts with you today. Only two weeks until Christmas! Are you ready? Do you have your menu planned? Don't worry, I don't either! But, I also don't have to plan a menu for Christmas. All I will have to help out with is dessert and potentially appetizers.
That's exactly why I decided to make these roasted mixed nuts! Before I serve anything to guests, I usually do a trial run to make sure I like the recipe. Since I might use this recipe for the upcoming holiday, I did a run through over the weekend and the recipe worked out perfectly.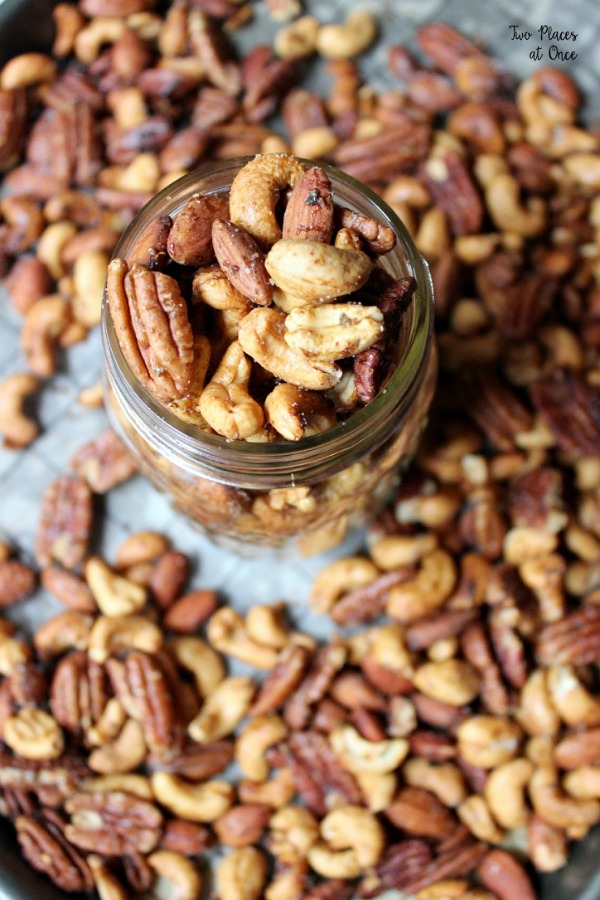 I opted to use pecans, cashews and almonds because they are not only some of my favorite nuts, but also because I love the different textures from each nut. The molasses adds a touch of sweetness while the cayenne pepper adds some heat. The rosemary is super aromatic and made my mouth water the entire time the nuts were roasting!
Now that I know the recipe works, I know I can use it for guests! Do you have any recipes you plan on using for Christmas?
Ingredients
1 cup raw pecans
1 cup raw cashews
1/2 cup raw almonds
2 tablespoons butter, melted
3 tablespoons molasses
1 teaspoon fresh rosemary, finely chopped
1/2 teaspoon cayenne
1/2 teaspoon dried oregano
1 teaspoon salt
1 teaspoon pepper
Instructions
Preheat the oven to 350 degrees and prep a large baking sheet.
Pour the pecans, cashews and almonds on the baking sheet and mix with your hands to combine.
In a glass bowl, whisk together the melted butter, molasses, rosemary, cayenne, oregano, salt and pepper.
Pour the butter mixture over the nuts and mix to combine.
Bake for 20 minutes, stirring halfway through. or until the nuts are fragrant.
Remove the nuts from the oven and allow to cool before serving!
https://mycookingspot.com/roasted-mixed-nuts/
The following two tabs change content below.
Becca Davis is the blogger behind Two Places at Once. She's a native Floridian living in Austin, TX. Becca grew up helping both her grandmother and mother in the kitchen. She's a completely self-taught cook with a passion for baking. Through her blog, Becca tries to make the kitchen more accessible. She's believes that cooking should be fun and doesn't need to be complicated. Becca lives with her college sweetheart Bud, and their very opinionated cat, Libby.
Latest posts by Becca Davis (see all)