It is with heaviness in my heart that I look at today's date. Another year has gone by, and another Christmas season is drawing to a close; while, this year, I was anxious for Christmas to be over (thanks to my day job.) I now wish that I had been able to take the time to slow down and take it all in…
Driven around my neighborhood and marveled at the decorations my neighbors endeavored to put up, while I had a hard time motivating myself to even string the lights on our tree.
Endured the craziness that is last-minute shopping the week before Christmas, just to grab that 'one more thing' for everyone.
Watched more holiday movies, because there are never enough.
My husband and I normally keep our tree up well in to January, so I still have time to enjoy the glitter and sparkle, and no one can tell me I'm not allowed to enjoy holiday treats like these Cranberry Bourbon Cheesecake Bites. Christmas may have come and gone already, but there are still New Year's Eve parties to think about!
These sweet little miniature cheesecakes are a snap to make, so you won't have to spend a ton of time putting them together. And, they're topped with probably the tastiest cranberry bourbon sauce I've ever tasted. Surprise your guests and fellow partiers with a big tray full of these cuties, and you'll be the hero of the night!
The whipped cream swirl is optional, but I highly recommend it!
Cranberry Bourbon Cheesecake Bites
Cranberry Bourbon Cheesecake Bites - a delightful treat at any holiday party!
Ingredients
Cranberry Sauce

3/4 cup fresh cranberries
2 Tablespoons sugar
1/2 cup water
1/3 cup bourbon
1 teaspoon orange zest

Crust

3/4 cups gingersnap or graham cracker crumbs
2 Tablespoons unsalted butter, melted
1 Tablespoon sugar

Cheesecake

16 ounces cream cheese, room temperature
3/4 cup sugar
1 Tablespoon flour
Pinch of salt
1/2 teaspoon vanilla extract
2 large eggs, room temperature

Whipped Cream

1 cup heavy cream
2 teaspoons sugar
1/2 teaspoon vanilla extract
Instructions
Preheat oven to 325 degrees F. Line miniature cupcake pans with paper liners and set aside.

Cranberry Sauce

Combine ingredients in a small saucepan. Bring to a boil, stirring to dissolve sugar, then reduce heat to medium-low. Allow to cook for 8-10 minutes until thickened, stirring frequently to avoid burning. Set aside to cool.

Crust

Combine ingredients in a small bowl, stirring until well-combined. Spoon a teaspoon of crust into each liner and flatten with your fingers. Bake for 5 minutes, then allow to cool.

Cheesecake

In the bowl of a stand mixer, beat cream cheese on medium-high for 2-3 minutes until fluffy. Beat in the sugar until smooth, then add salt and vanilla and blend. Beat in the eggs one at a time, mixing until fully incorporated after each addition.
To assemble, fill each liner 3/4 of the way with cheesecake batter. Place about 1/2 teaspoon of cranberry sauce on top of filling and swirl with a toothpick.
Place a roasting pan filled with 1 inch of water in the oven, and gently place the cupcake pan inside of it, adding more water if necessary to bring it halfway up the side of the cupcake pan. Bake 18-22 minutes, until cheesecakes are set.
Remove from oven and place on a cooling rack to cool to room temperature. Once cool, chill in refrigerator.

Whipped Cream

Combine ingredients in a large, cold bowl. Whip on medium until slightly thickened, then whip on high until medium peaks are reached.
Serve cheesecakes with whipped cream and additional cranberry sauce, if desired. They are excellent on their own, as well! Enjoy!
Notes
Adapted from Martha Stewart You can skip the water bath and just bake them right in the cupcake pan, but you run the risk on sunken cheesecakes like mine. I highly recommend the extra step for perfect treats!
https://mycookingspot.com/cranberry-bourbon-cheesecake-bites/
What treats do you love to serve at your New Year's Eve shindigs?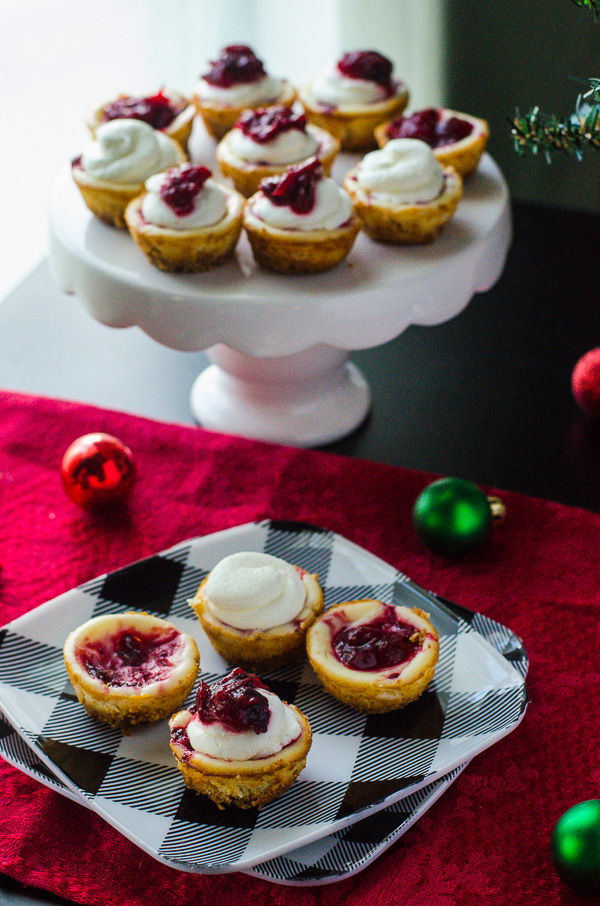 The following two tabs change content below.
Erica has baking in her blood. Raised by her homemaker Great-Grandmother, she was brought up in the kitchen, learning little hints and tricks that led her to her current bakery manager career. A native Floridian, she loves to enjoy everything her home state has to offer, especially when it comes to food. She often collaborates with her husband on recipes, and every once in a while, her dog, Vader, gets the scraps! Her blog, The Crumby Cupcake, is fairly new, but she is trying to carve out her little corner of the internet with her originality, creativity, humor, and beautiful food photography. Throughout her adventures, she hopes to inspire others to create delicious food and live happy lives by sharing her joy, both in the kitchen and out.
Latest posts by Erica Acevedo (see all)