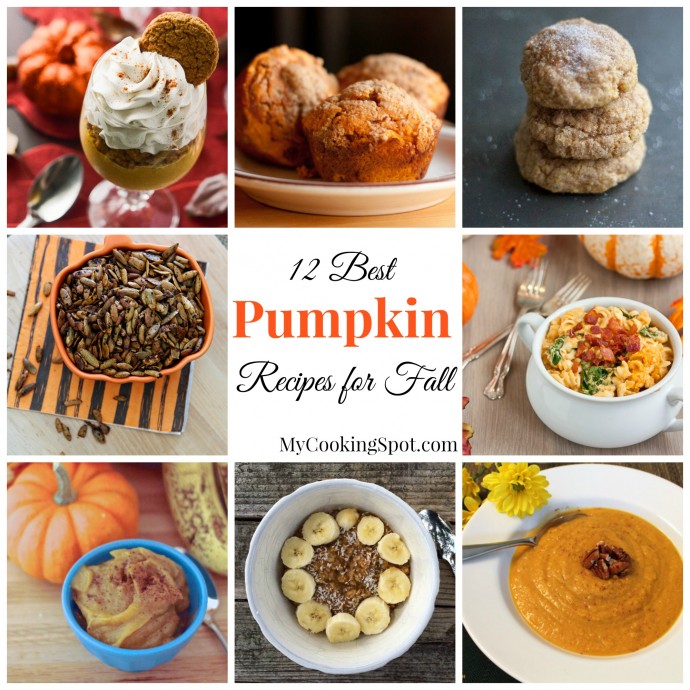 It's Fall Y'all! Stephanie from Sustaining the Powers here again. The days are getting cooler and shorter, the leaves are beginning to change, and the pumpkin craze is fully in the air, so I wanted to bring you a round up of pumpkin recipes for you to enjoy with your families this Fall.
I don't know about you, but I absolutely LOVE anything and everything pumpkin. Pumpkin pie, pumpkin cake, roasted pumpkin soup, pumpkin carving, pumpkin chunking, pumpkin patches, pumpkin spice, really, I'm probably down for anything you add to the word "pumpkin." My Halloween board on Pinterest is at least 2/3 pumpkin and 1/3 The Walking Dead. (Any other Walking Dead fans out there?) That makes Fall my most favorite of the seasons. (plus I'm a food blogger, so all the best food holidays happen between now and January.)
Trips with me to the grocery store during this time of year involve me getting everything on our list and then I convince my hubby that we should stop by the baking aisle "just to see" what the sales are for the week. (Pro Tip: It's always pumpkin.) Then I convince him that we're going to need to stock up on more pumpkin for the rest of the seasons when it's not available, plus "It's on sale!" I say. Then I go home and stuff the canned pumpkin, pumpkin butter, pumpkin spice oreos, and candy corn pumpkins onto my already overflowing shelf of Fall ingredients, and I ration them carefully so I have some for the whole rest of the year. (I'm not kidding about this either. I just used my last pumpkin butter from last year in August.)
Earlier today, I was watching one of those crazy Food Network shows where they do the insane pumpkin and cake carving for "Halloween Wars" and my husband remarked that this definitely must be my favorite season because everything pumpkin related is all over TV and online. That's what gave me the idea for this post. It's basically my cooking wishlist for the next few months while pumpkin things are appropriate to take to social gatherings. Plus we have a TON of great pumpkin recipes here from our contributors. I think everyone one else is just as pumpkin obsessed as I am. Care to join me in a pumpkin-a-thon? Pumpkin Bake Off? Pumpkinfest? Enjoy these sweet and savory recipes!
Sweet Pumpkin Recipes
---
Pumpkin Sheet Cake – My Cooking Spot
Two Ingredient Pumpkin Streusel Muffins – Sustaining the Powers
Pumpkin Snickerdoodle Cookies – The Wetherills Say I Do
Pumpkin "Ice Cream" – My Cooking Spot
Bites As Sweet As Pumpkin Pie – My Cooking Spot
Pumpkin Pie Pots De Creme – The Crumby Cupcake
Pumpkin Spice Oatmeal – Natasha Red Blog
Pumpkin Chocolate Chip Granola Bars – A Savory Feast
Savory Pumpkin Recipes
---
Pumpkin Spinach Mac and Cheese – Sustaining the Powers
Roasted Pumpkin Seeds – The Speckled Palate
Creamy Pumpkin Apple Pasta – My Cooking Spot
Pumpkin Squash Soup – 2 Cookin' Mamas
What's on your pumpkin bucket list this Fall?
The following two tabs change content below.
Stephanie first learned to cook as a young girl in her grandmother's kitchen. As an Austin, Texas native, Tex-Mex cuisine, BBQ, and comfort food is in her blood. She loves to travel, and her favorite souvenir is picking up an authentic, local recipe, so her cooking has influences from all over the world. She's passionate about making cooking accessible to everyone and helping you provide sustenance to your family. (Hence her blog name:
Sustaining the Powers
) She also loves hosting "framily" meals in her Denver, Colorado home. When she's not in the kitchen, Stephanie is also a web developer, a geek, a foodie, a Whovian, a book-addict, and (more importantly) a disciple of Christ and a wife to Nick, the most amazing man she knows.
Latest posts by Stephanie Powers (see all)