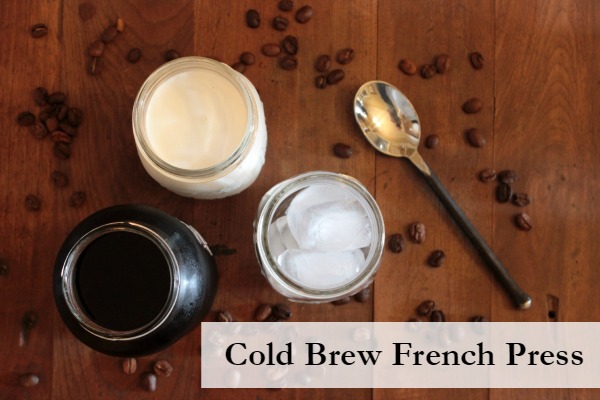 Coffee is my love language. I spend time with it every morning, and most afternoons…even some evenings. It is a very sweet relationship that I have with coffee. I am just playing, but really and truly I do love some coffee. So I am always trying new ways of enjoying my favorite drink! French Press is my method of choice when it comes to brewing a strong cup of coffee. The pressing creates a smooth but bold flavor, and it eliminates the bitter and acidic aftertaste. I don't know about you but sometimes I just want to have a cold drink in the afternoon, and iced coffee always hits the spot.
This recipe, if you can even call it that, it simple. It is more of a method, or process to get you the most smooth, rich cup of iced coffee that you would think you were at your favorite coffee shop. I add heavy cream, sugar, or even sometimes if I am feeling really fancy, sweetened condensed milk.
This method of brewing is slow, it cannot be done in an hour, but it is so worth the extra time put in! I promise you will love this method of cold brewing! And your friends and family will too. Enjoy!!
Cold Brew French Press Coffee
Ingredients
1 cup course ground coffee
4 cups water
pinch of salt
Instructions
simple place grounds into the press. Add salt. Top with warm water. Stir well so all grounds are incorporated into the water. Place lid on top and place in the refrigerator for 8-12 hours or overnight. Press plunger down once set, enjoy over ice or without.
http://mycookingspot.com/cold-brew-french-press-coffee/
The following two tabs change content below.
Rachel is a part time bakery assistant, part time church employee, and a total foodie. She lives currently with her husband and little pup in Mississippi. Rachel has a love for graphic design, a good book, and being in the kitchen. She discovered her passion for baking and cooking shortly after getting married, and now spends hours in the kitchen to relax, and create delicious recipes for the ones she loves. Rachel shares more about her little family over on her blog where she writes about marriage, fashion, goals, and faith.
Latest posts by Rachel Cox (see all)