A few weeks ago, I ended up with a ginormous bag of M&M's at my house.
I was just minding my own business, doing my own thing, and then suddenly, these M&M's were taking over. I, of course, was eating them like they were going out of style. You know, as one does.
Here's the thing: When you have a party bag that has more M&M's than you've ever seen in your entire life, it's probably a good idea not to eat the entire thing in a week… or even a month.
Chances are, if you've visited my house recently, I have attempted to pawn some M&M's off on you.
"Oh, you want a bag of road M&M's? OK, sure. Wonderful! Here, let me pack you two because I'm sure someone in your life wants a bag of M&M's, too."
That's the kind of situation we're in. And it is bad news, even though I love me some M&M's.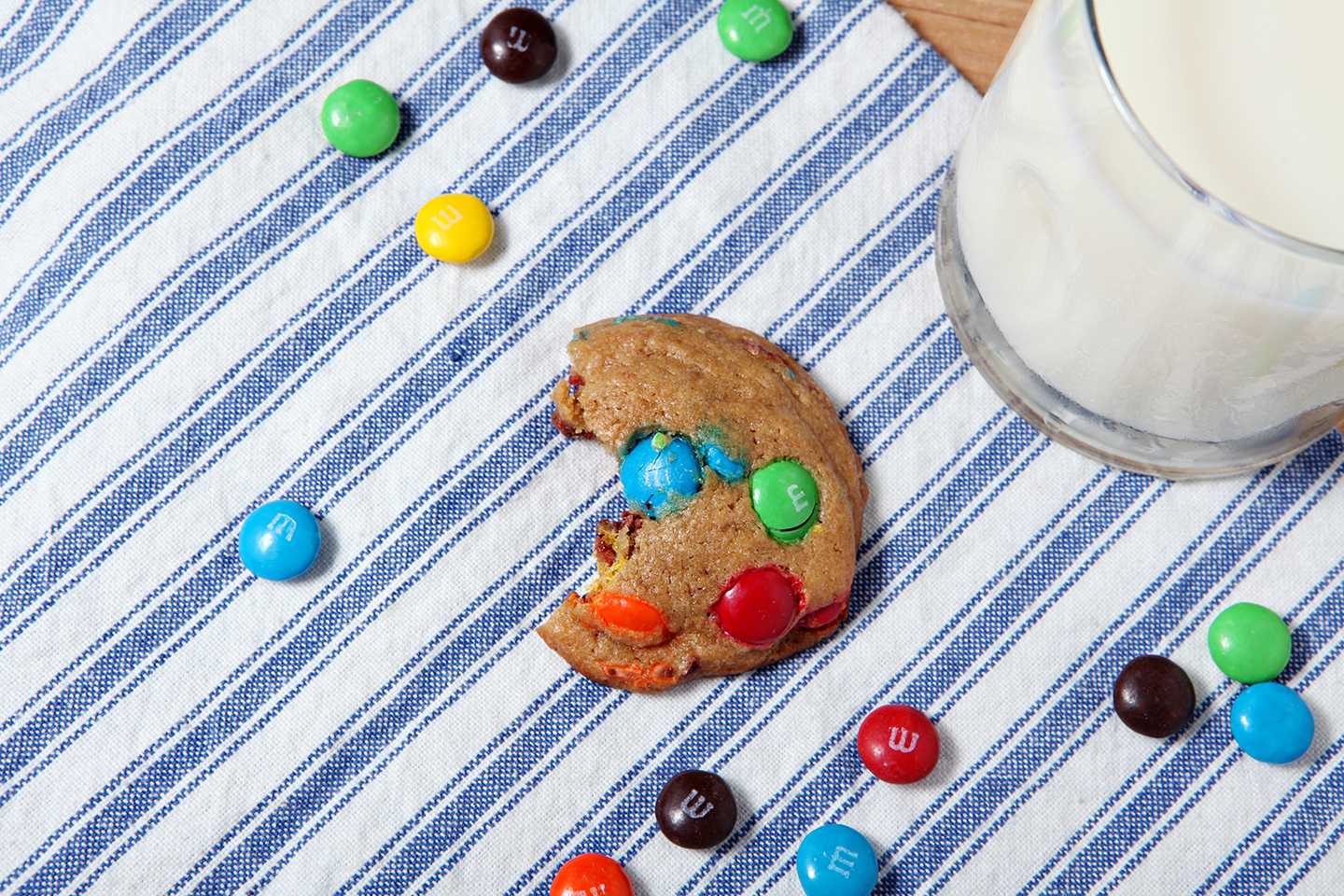 This past weekend, I made M&M Cookies in an attempt to polish off the rest of the candy.
I used this recipe from Pinch of Yum as my inspiration… and proceeded to make the recipe without vegetable shortening. Because shortening, while amazing in baked goods, kind of freaks me out.
It's simple. It's delicious. It's perfect if you have a huge bag of plain M&M's lying around your house. It's even perfect if you don't, and you have to run out to the store to pick up the candy.
The best news? It makes about 6.5 dozen cookies, so it can feed a crowd. (And spoiler alert: The dough is really good, so you can mow down some of those cookie numbers if you indulge in that kind of thing. It also freezes well!)
Here's how I made 'em:
Ingredients
3/4 cup coconut oil
1/4 cup unsweetened applesauce
1 cup dark brown sugar
1/2 cup granulated sugar
2 eggs, at room temperature
1 tablespoon pure vanilla extract
2 1/2 cups and 2 tablespoons unbleached all-purpose flour
1 teaspoon baking powder
1 teaspoon kosher salt
1 1/2 cups plain M&M's
Instructions
Preheat the oven to 350°F. Line a baking sheet with parchment paper, and set aside.
In a large glass bowl, cream the coconut oil, applesauce and sugars together with a hand mixer, blending until smooth.
Crack the eggs, and pour them into the batter. Add the vanilla extract. Beat until smooth.
Sift the flour, baking powder and salt together, then slowly add them to the batter, using the mixer on a low speed until the batter starts to come together. Beat on a higher speed until smooth and combined.
Sprinkle in the M&M's, and fold into the batter using a rubber spatula.
Dollop the batter on the prepared baking sheet using a tablespoon (or a 1-tablespoon cookie scoop.) Space 1.5" apart so the cookies can spread. Press a few additional M&M's on to the tops of the cookies.
Bake for 10-12 minutes, or until the cookies are set, and remove from the oven.
Cool on a wire cooling rack, and then enjoy!
http://mycookingspot.com/mm-cookies/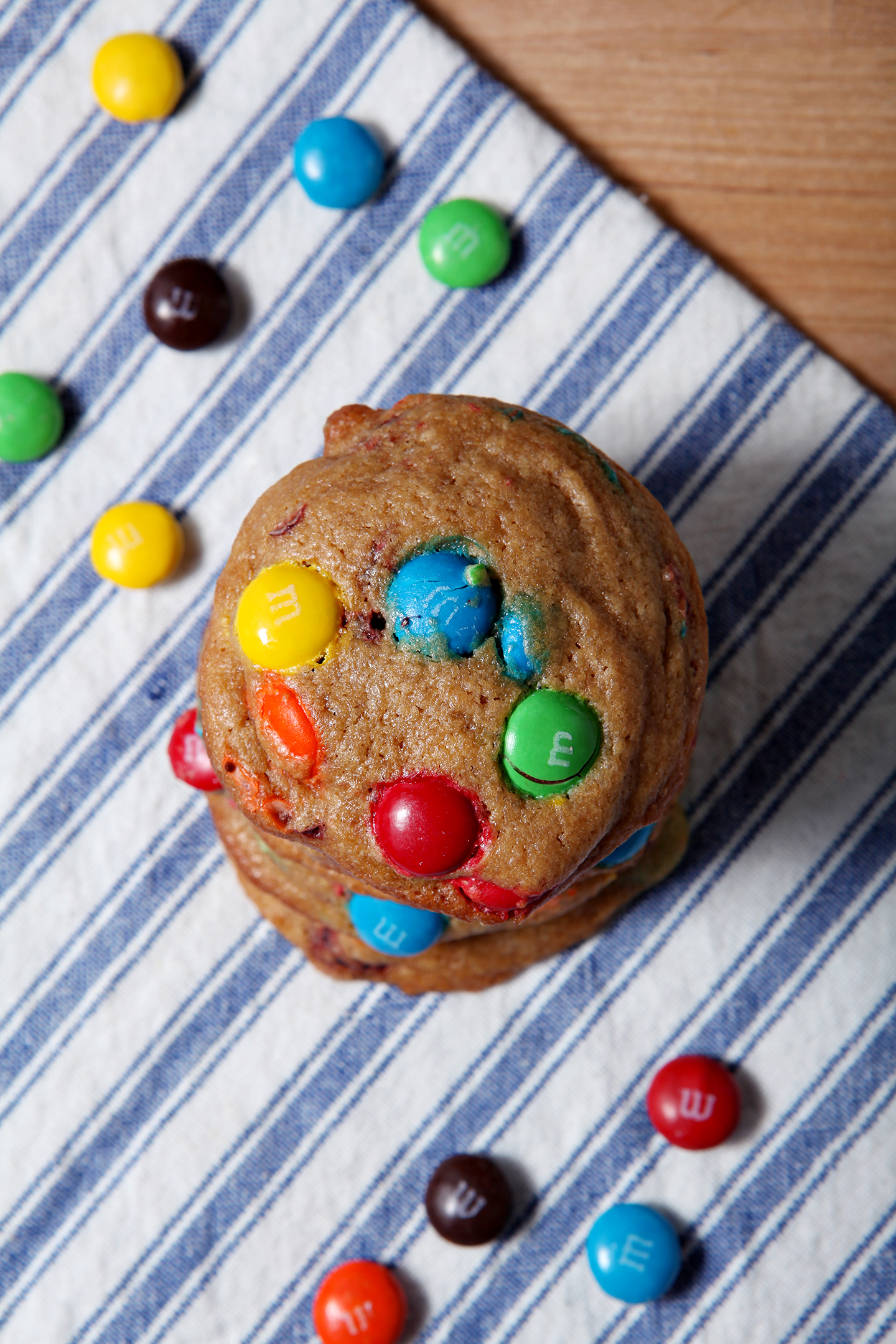 If you had an abundance of M&M's at your house, what would you make?
The following two tabs change content below.
Erin is a professional photographer and social media manager who has a penchant for baking and cooking. She discovered her love of all things in the kitchen during her collegiate years when she missed being able to cook her own meals, and as soon as she moved off campus, she began playing with her food... and has been doing so ever since. On her blog, The Speckled Palate, she shares tried and true favorite recipes from her kitchen, as well as new faves, as she creates new dishes and tinkers her way through some well-loved cookbooks.
Latest posts by Erin Skinner (see all)