For most of my life (well, since I was of drinking age), I had a thing against dark alcohols. And not just one particular kind. It was all of them. I didn't try them, and I didn't think about trying them. I just knew I didn't like them. They smelled strong, and they were the kind of thing old guys drank on the rocks in musty dive bars. That was my impression, and it stuck for many, many years.
But recently something changed. Call it one too many episodes of Mad Men…call it the prevalence of speakeasy style bars…call it martini overdose. Call it whatever you like. The simple fact is I was lured to the dark side, and I like it. I can't say I necessarily savor the taste of dark alcohols just on the rocks (not quite there yet), but mix it up with some fresh, light mixes, and I'm all over it. And that's exactly what you get in this refreshing cocktail. Yep, can you believe it? Bourbon can be refreshing!
The key to this drink is to use fresh pineapple juice. If you have a juicer, that's the easiest way to do it. I don't have a juicer so I opted for another method…blend the pineapple in a blender until fully pureed, then strain through a mesh strainer, and strain again with cheesecloth lining the strainer. It takes a bit of time, but the deliciously pure juice you end up with is well worth it. (And if all else fails, store bought juice will work as well).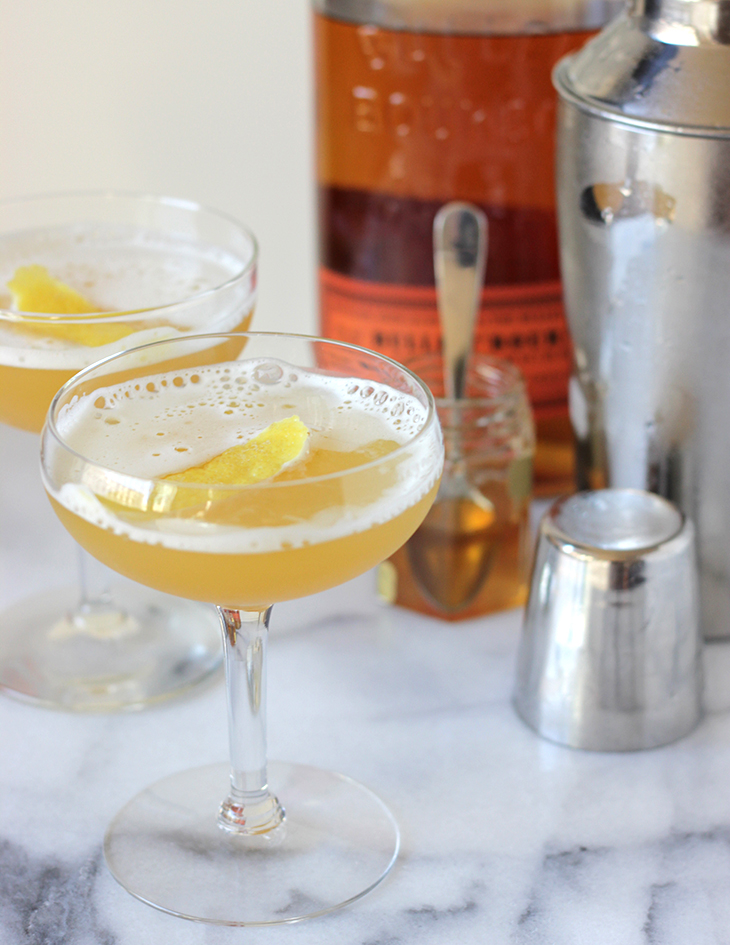 Pineapple Bourbon Cocktail
(for two cocktails)
2 shots fresh pineapple juice
1/2 teaspoon honey
2 shots bourbon
juice of 1/4 of a lemon
ice
To prepare:
Start by pouring the two shots of pineapple juice into a cocktail shaker (before adding ice). Add the honey, and mix with a long spoon until the honey is dissolved.
Add ice to fill the shaker nearly to the top. Add the bourbon and lemon juice, and shake vigorously.
Serve in a classic champagne saucer or martini glass.
Lemon zest makes a nice garnish for topping the cocktail. These are easy to prepare by peeling off just the zest from a lemon using a potato peeler.
You'll never miss a cosmopolitan, once you get a taste of this drink…cheers!
Melissa is the blogger behind
Serving Seconds
, a food blog dedicated to the yummy and the beautiful. When she's not in the kitchen, you can find her wandering the aisles of the craft store, instagramming at the dinner table, or exploring every foodie nook she can find in her beloved city of San Francisco. She's got a penchant for anything mini, modernized comfort food, and stellar hospitality. In her "Setting the Table" series, Melissa will share unique and creative ways to add a little fun to your table and make your guests feel extra special. From a weeknight dinner to a girls' night in, there's always a reason for theme parties, signature cocktails, and gathering with friends.
Facebook
Twitter:
@ServingSeconds
Blog:
www.ServingSeconds.com
The following two tabs change content below.
Erin Kennedy and I'm the Founder and Creative Director. I love food, cooking and learning tips in the kitchen and of course, eating. Sharing all this food love is a passion of mine.
Latest posts by Erin Kennedy (see all)