It doesn't get much better than a veggie-filled meat sauce covered with cheesy mashed potatoes
Growing up, we weren't really a family of casserole eaters. Not until I got to college did I really start eating casseroles (namely, poppy-seed chicken casserole and cheesy chicken broccoli & rice casserole).
The second I had shepherd's pie, I knew we would become good friends. You don't get much better than a veggie-filled meat sauce covered with mashed potatoes.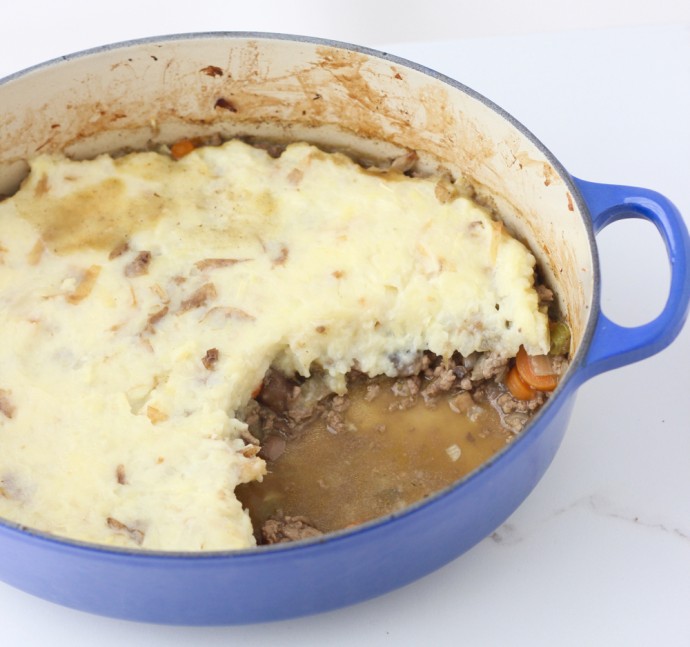 Well, that is until you realize that it's not a complicated dish to make. I also love making this because you can control the ingredients to nourish your body full of goodness. Think lots and lots of veggies for lots & lots of nutrients, antioxidants and fiber, plus lean ground beef for protein, vitamin B12 and iron, as well as potatoes for potassium, more fiber and to up the delicious factor.
I also add cheese to the potatoes because why wouldn't I?! Cheese + potatoes is always a good idea.
To make this shepherd's pie, you'll need to boil potatoes while you sauté the veggies & cook the ground beef. Because I wrongly assumed that I had extra potatoes in my apartment, I used half parsnips and half potatoes for the topping in this casserole. So. Delish. I'm so glad I had them leftover from the Guinness Stew I made last week. They gave a new element of flavor that went really well in this dish. You could also use half cauliflower if you wanted to do that. Either way, you'll need 1 pound of potatoes or combination of parsnips & potatoes or combination of cauliflower & potatoes.
My favorite tip for making this dish a breeze is to use an oven safe skillet or dutch/french oven (something that can hold at least 8 cups) for cooking your meat and veggies. Then you'll just cover everything with the mashed potatoes and bake. No need to dirty a casserole dish.
Yay for less dirty dishes and effort. Even more yay when you get to dig into this tasty dish!
Ingredients
1 pound lean ground beef
1 cup diced carrots (about 2 carrots)
1 1/4 cup diced onions (1 medium onion)
1 cup diced celery (about 2-3 stalks)
1 1/2 cups diced mushrooms (about 4 ounces)
1 tsp minced garlic (1 clove)
1 1/2 cups beef or chicken broth, divided
2 bay leaves
1/2 tsp salt, divided
1/4 tsp ground black pepper
1 pound potatoes, chopped
1/4 cup 2% or whole milk
2 tsp butter
1 cup grated cheddar cheese (about 4 ounces)
2 tsp cornstarch
Instructions
Preheat the oven to 375*F.
Add the ground beef, carrots, onions, and celery to an oven-proof skillet or dutch/french oven over medium-high heat. Sauté until beef is cooked through and veggies are soft. Drain or wipe out excess grease. Add in mushrooms, and cook until mushrooms have released their juices, about 7 minutes. Stir in garlic, 1 cup broth, bay leaves, 1/4 teaspoon salt, and black pepper. Bring to a boil, reduce heat to a simmer, and simmer for about 15 minutes until the liquid has reduced by about half.
Meanwhile, in a medium saucepan, add potatoes and cover with cold water. Bring to a boil, reduce heat to simmer, and simmer until potatoes are soft. Once potatoes are cooked, drain & mash with milk and butter. Stir in cheese and remaining 1/4 teaspoon salt. Set aside.
Stir together remaining 1/2 cup cold broth with cornstarch until no lumps remain. Stir into meat mixture and simmer for about 5 minutes until sauce thickens. Remove from heat, and discard bay leaves.
Cover meat mixture with mashed potatoes. Transfer to the oven and bake for 15 minutes until bubbly. Carefully remove from oven. Let sit about 5 minutes before serving. Enjoy!
Notes
*Be sure to leave the potatoes with the peel on to keep in nutrients and fiber. *You can substitute 1/2 pound of potatoes for 1/2 pound parsnips or cauliflower. Prepare as directed.
http://mycookingspot.com/shepherds-pie/
Meme
The following two tabs change content below.
Meme Inge is a registered dietitian/nutritionist living in New Orleans, LA - notably referred as The Big Easy. Growing up surrounded by a family of cooks, Meme has always been a lover of food - both healthy and not so healthy. She started the blog Living Well Kitchen as an outlet for sharing her kitchen creations and nutrition knowledge with others. Living Well Kitchen is busting with recipes, practical nutrition advice, local restaurant reviews, fitness fun, and any other ramblings she may have. Join her as she waxes poetic about fruits & veggies and tries to make southern staples just a little bit healthier.
Latest posts by Meme Inge (see all)