If you asked me about my favorite smell, it would probably be a tie between earth after rain (which is called petrichor–isn't that a cool word!?) and freshly baked bread. But what I love even more than the smell of freshly baked bread, is cutting it open while it's hot, and slathering butter and jam all over a still steaming piece of crusty, golden goodness.
This soft honey oat bread is my absolute favorite bread to make at home. The crust has the perfect, nutty chewiness to it, and the inside is soft and delicate. It's perfect for toast, sandwiches, or eating hot with butter and jam.
As far as bread goes, this is a really simple recipe. It only has a few ingredients and the steps are very straightforward. You basically throw everything in the bowl of your stand mixer (or you can work out some tension and knead by hand!)…
…knead, then let the dough hang out in a warm spot…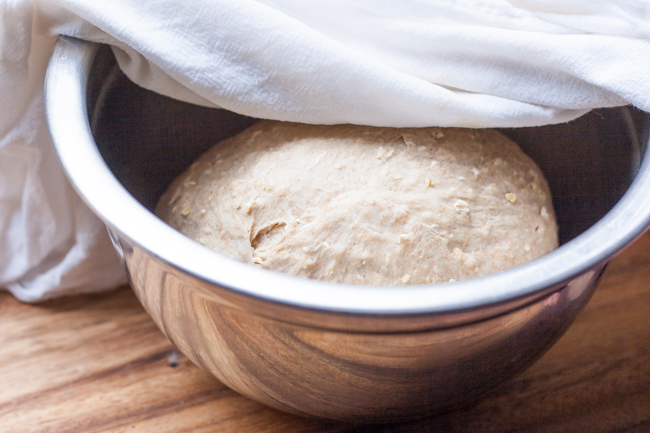 …stretch into a rectangle, then roll up and place in a loaf pan…
…let it rest a touch longer, then slather the top with honey and oats, and bake!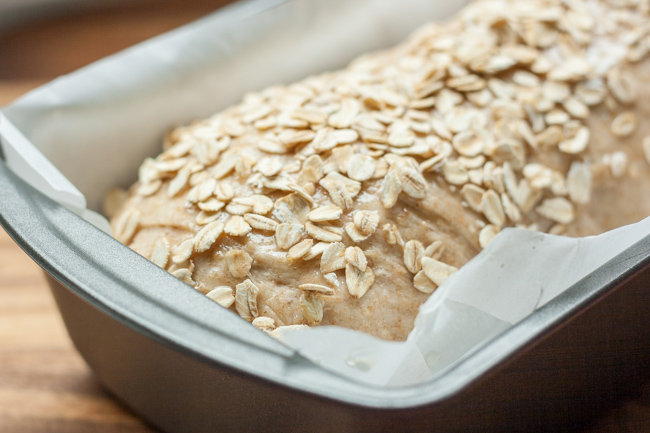 Super simple, right? 🙂
Ingredients
2 cups all-purpose flour
1 cup whole wheat flour
¾ cup rolled oats, plus extra for sprinkling
2¼ teaspoons instant yeast
1½ teaspoons salt
1 cup milk
¼ cup water
2 tablespoons unsalted butter, softened
¼ cup honey, plus extra, warmed honey for drizzling
Instructions
Add the flours, oats, yeast, and salt to the bowl of a stand mixer, or a large bowl.
Warm the milk and the water in the microwave until comfortably warm–about 30-45 seconds. Add the milk/water mixture, butter, and honey to the bowl.
Turn the mixer on low speed and knead until a rough ball forms. Then turn the mixer to medium speed and knead for 7-10 minutes, or until dough is smooth, elastic, and slightly tacky. If mixing by hand, mix in the bowl until a rough dough forms. Turn out onto a well floured surface and knead until the dough is no longer sticky, but smooth and slightly tacky.
Place the dough in a greased bowl and cover with a damp cloth. Let rest in a warm place for 30-60 minutes, or until doubled in size.
Turn out on to the counter and stretch into a 9x13" rectangle. Roll up and place into a greased or parchment lined loaf pan, tucking the ends of the roll under itself to fit in the pan.
Cover and let rest for 45 minutes.
Once rested, slather warmed honey over the top and sprinkle with oats.
Add a second, empty loaf pan to bottom rack of the oven and preheat oven to 350º F. Once preheated, add 1/4 cup of water to the empty loaf pan, then place the bread in the oven on the upper rack. This will create steam in the oven–essential for a perfect crust.
Bake the bread for 40-50 minutes, or until the crust is golden brown.
Remove to a rack to cool.
http://mycookingspot.com/soft-honey-oat-bread/
The following two tabs change content below.
Jana is a wife and a momma. Food has always been a passion of hers, which led her to study Culinary Arts in college. After having her son, she put her dreams of owning her own restaurant on hold for a while and discovered a love for sharing her life and her culinary talent through blogging. Jana could easily spend all day creating magic in the kitchen...if she didn't have to do the dishes afterwards.
Latest posts by Jana Tolman (see all)