Hey y'all! Stephanie here again. Summer is in full swing which means farmers markets are stocked with summer produce and my backyard berry garden is ready to harvest. The previous owners of our house had recently planted strawberry plants when they decided to sell. We closed 3 years ago in May, and it was an amazing gift to move in and find a patch of strawberries almost ready to harvest!
I've both nurtured the plants and ignored them on and off over the past few years and each year they come back with a more bountiful harvest than the year before. I can't tell you how happy it makes me to step out my back door, pick a few of the reddest strawberries I've ever seen, and decide to whip them up into something for lunch each day.
Today I decided to make a fancy toast with fresh strawberries, goat cheese, pistachios, some arugula from my front vegetable garden, and a drizzle of honey for good measure.  Fancy toast has been popping up everywhere this season, and I can definitely see why! It's got all the fun of a crostini, but you can eat it all by yourself and nobody will judge you. (Or you can share, but who wants to share?)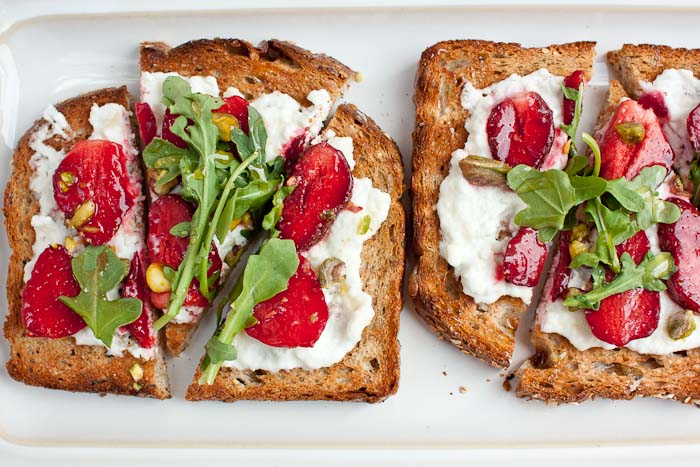 We're not the only ones who love our berries. Over the years we've held an ongoing battle with the urban Denver squirrels. (Squirrels are the worst!) We've put up some bird netting, but they sneak in from time to time and leave nothing but footprints and strawberry caps behind. They apparently also enjoy fancy toast because I had these photos staged on the deck, popped inside my back door to grab my camera, and came out to find a squirrel getting ready to snatch my toast!  So be warned, and don't leave this toast unattended.
Enjoy this quick, squirrel-approved recipe!
Strawberry Goat Cheese Toast
Ingredients
2 pieces of your favorite bread, toasted (sturdy bread like wheat or multi-grain works best here)
4 strawberries, sliced
a small handful of arugula
2-3 oz goat cheese, softened
1 tablespoon pistachios, shelled and chopped
1 tablespoon honey or balsamic glaze
Instructions
Toast the bread using your favorite method. Make sure it's well toasted and sturdy enough to hold toppings.
Spread toast with softened goat cheese and layer on sliced strawberries.
Sprinkle with pistachios and arugula, and drizzle with honey.
Cut into triangles and serve immediately.
Notes
You can make this gluten-free if you use gluten-free bread. This could easily be adapted for a fancy crostini with smaller toast rounds.
http://mycookingspot.com/strawberry-goat-cheese-toast/
The following two tabs change content below.
Stephanie first learned to cook as a young girl in her grandmother's kitchen. As an Austin, Texas native, Tex-Mex cuisine, BBQ, and comfort food is in her blood. She loves to travel, and her favorite souvenir is picking up an authentic, local recipe, so her cooking has influences from all over the world. She's passionate about making cooking accessible to everyone and helping you provide sustenance to your family. (Hence her blog name:
Sustaining the Powers
) She also loves hosting "framily" meals in her Denver, Colorado home. When she's not in the kitchen, Stephanie is also a web developer, a geek, a foodie, a Whovian, a book-addict, and (more importantly) a disciple of Christ and a wife to Nick, the most amazing man she knows.
Latest posts by Stephanie Powers (see all)