Bourbon roasted cherries, chunks of fudgey brownies, and a vanilla bean ice cream base make the world go round in this delicious Black Forest Ice Cream recipe!
It's hoooooooooot.
Like, slap-in-the-face as soon as you walk out the door humid heat.
Typical for Florida, really, but extremely unwelcome. It's only May! This doesn't bode well for the actual summer season, I imagine.
I suppose it's a good thing I received an ice cream attachment for my Kitchen Aid mixer last year! I can see it getting put to use over the next few months. Ugh, few, what am I talking about. It won't cool off until October!
Might as well get started now. How about a twist on a famous German cake in this cold. refreshing, and liquored up Black Forest Ice Cream?
Black forest cake is one of those desserts that I remember from childhood. Being half German, it was something my family indulged in two or three times a year, always made with homemade chocolate cake, and full of delicious oozy black cherry filling.
The whipped cream made it so incredibly light, yet sinful at the same time.
Believe it or not, the idea for this ice cream was born from a batch of over baked brownies.
I mean, really, what do you do with over baked brownies? They're so crumbly and hard, there's no way to truly enjoy them without…
Maybe ice cream?
Hello, brainchild. But, I didn't want it to just be a brownie-flavored ice cream. There was a fresh bag of cherries sitting in the fridge, just waiting to be used for something special, and after racking my brain about what came from the combination, I knew that those little fruits needed to be roasted with some booze and turned in to a frozen dessert.
And what a totally wonderful decision that turned out to be.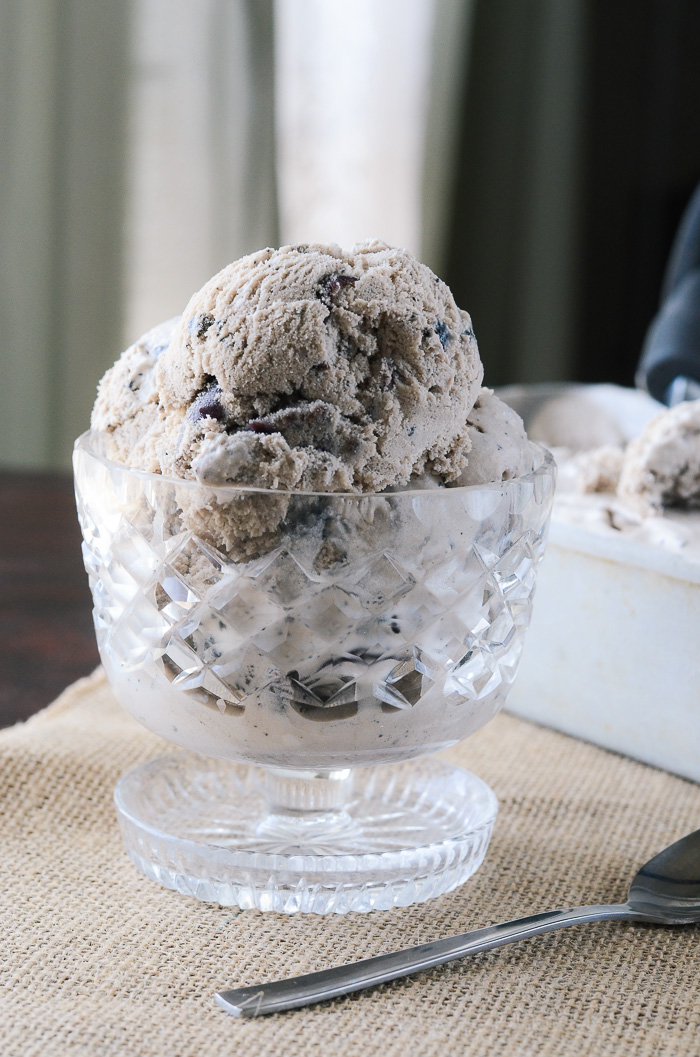 For the record, I am now obsessed with roasting all the fruits.
The sugar-bourbon flavor on the cherries caramelize them so beautifully, and tossing them in to my vanilla bean ice cream base and mixing in the crumbled brownie chunks was just the ticket.
It's almost as good as the cake itself. It's definitely more refreshing on a crazy hot day.
Better fire up that ice cream maker and stock up on this stuff – summer is coming!
Ingredients
1 1/2 cups fresh cherries, pitted & chopped
1 Tablespoon granulated sugar
3 Tablespoons bourbon (or kirsch, tequila or brandy), divided*
2 cups heavy cream
1 cup whole milk
2/3 cups granulated sugar
Pinch of sea salt
6 large egg yolks
1 teaspoon vanilla bean paste (or extract)
1 1/2 cups chocolate brownie or cake (homemade or store bought), cubed
Instructions
Preheat oven to 400 degrees F.
In a small baking dish, spread cherries in an even layer. Drizzle with 1 Tablespoon of bourbon and sprinkle with sugar.
Roast cherries for 15 minutes, stirring every 5 to get an even cook.
Remove from oven and cool to room temperature, then place cherries in a jar with the remaining bourbon and refrigerate at least 2 hours.
In a medium pot over low heat, bring the cream, milk, sugar, and salt to a simmer for about 5 minutes, until the sugar dissolves.
Place egg yolks and vanilla bean paste in a medium bowl and whisk together. Slowly whisk 1/3 of the simmered cream in to the yolks, then return mixture to pot.
Set heat to medium-low, and cook mixture until it's thickened enough to coat the back of a spoon, or reaches 170 degrees F.
Strain mixture into a medium bowl, and cool to room temperature. Cover bowl and chill for at least 4 hours or overnight.
Following manufacturer's instructions, churn your ice cream in your ice cream maker, adding roasted cherries and brownie chunks when ice cream is 3/4 of the way churned.
Scoop soft serve in to a large loaf pan and smooth top, then freeze for about 3-4 hours or until it reaches your desired hardness.
Notes
* If you'd prefer to omit the alcohol, simply replace the bourbon with water while roasting the cherries, and soak them in vanilla or rum extract instead.
http://mycookingspot.com/black-forest-ice-cream/
What is your favorite way to cool down in the hot summer months?
The following two tabs change content below.
Erica has baking in her blood. Raised by her homemaker Great-Grandmother, she was brought up in the kitchen, learning little hints and tricks that led her to her current bakery manager career. A native Floridian, she loves to enjoy everything her home state has to offer, especially when it comes to food. She often collaborates with her husband on recipes, and every once in a while, her dog, Vader, gets the scraps! Her blog, The Crumby Cupcake, is fairly new, but she is trying to carve out her little corner of the internet with her originality, creativity, humor, and beautiful food photography. Throughout her adventures, she hopes to inspire others to create delicious food and live happy lives by sharing her joy, both in the kitchen and out.
Latest posts by Erica Acevedo (see all)