An easy four-ingredient, chemical free, homemade vanilla peppermint coffee creamer recipe that costs only pennies to make!
In what seems like a blink, the weather has gone from brown and autumn-y to cold and white and generally blah for most of the northern hemisphere. This Arctic Chill whatever the weatherman keeps talking about is for the birds. Why does it have to be so cold?!
Aw, who am I kidding, I live in Florida. It's barely touched us. But I truly do feel for all of you northern folks and I sincerely hope the cold is tolerable, and isn't messing with your holiday season. The best way, in my mind, to deal with cold weather is to drink lots of hot beverages; hot cocoa, hot toddies, coffee. If the snow is keeping you indoors and away from Starbucks at any point this coming winter, but you've got to get your peppermint coffee fix, all you need is four relatively common ingredients to make this homemade VanillaMint Coffee Creamer recipe!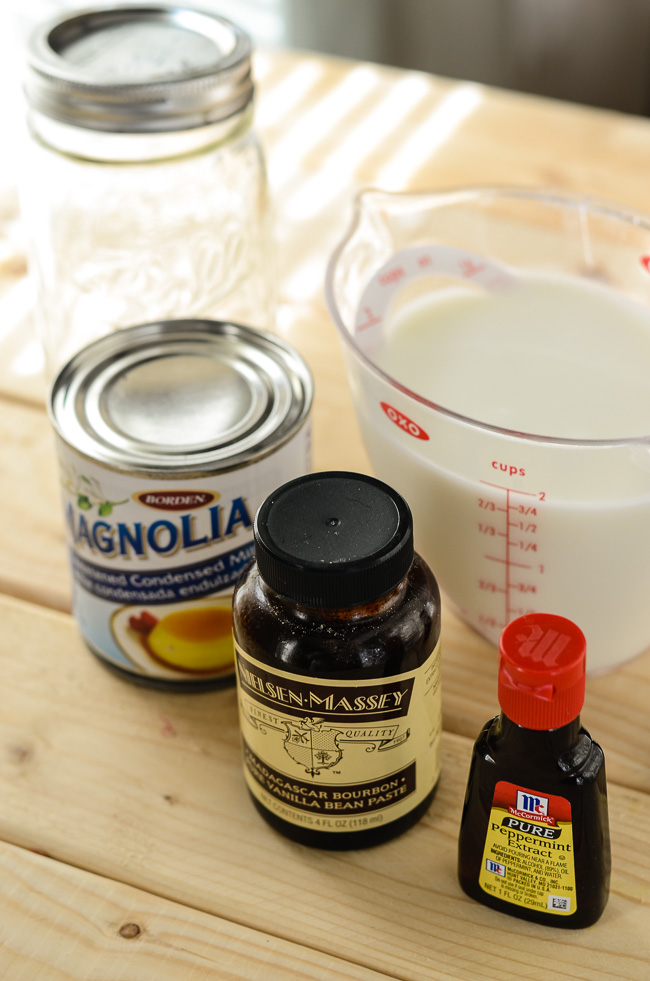 2 kinds of milk. Vanilla bean paste. Peppermint extract.
Most people who bake will have almost all of these things in their pantry and refrigerator. If you don't, I suggest you grab whatever it is you're missing, because this homemade coffee creamer recipe is wonderful! There are no chemicals or any of that stuff you can't pronounce in it, and it tastes just as good (if not better) than store bought! Plus, it's super cheap and so easy to make, which is always a plus.
I'm an absolute convert. You can pretty much invent any flavor you want, and I'm all about that variety! VanillaMint is good all year round, but if I want pumpkin creamer in June, then by gosh, I'll have it!
VanillaMint Coffee Creamer
Ingredients
1 cup sweetened condensed milk (1/2 of a can)
1 cup milk or cream (whole, lowfat, skim, almond, soy, coconut, half&half - anything works!)
2 teaspoons vanilla bean paste
1 teaspoon peppermint extract (more or less depending on your taste)
Instructions
Combine all ingredients in a large mason jar and shake well for about 30 seconds.
Refrigerate until ready to use.
Always shake well before using to remix settled vanilla beans.
http://mycookingspot.com/vanilla-mint-coffee-creamer/
What is your favorite coffee flavor?
The following two tabs change content below.
Erica has baking in her blood. Raised by her homemaker Great-Grandmother, she was brought up in the kitchen, learning little hints and tricks that led her to her current bakery manager career. A native Floridian, she loves to enjoy everything her home state has to offer, especially when it comes to food. She often collaborates with her husband on recipes, and every once in a while, her dog, Vader, gets the scraps! Her blog, The Crumby Cupcake, is fairly new, but she is trying to carve out her little corner of the internet with her originality, creativity, humor, and beautiful food photography. Throughout her adventures, she hopes to inspire others to create delicious food and live happy lives by sharing her joy, both in the kitchen and out.
Latest posts by Erica Acevedo (see all)