Use the grill to cook your pizza on a hot summer's day! This Grilled Hawaiian Pizza is sweet, salty and savory at the same time. It is a summertime favorite and oh-so-easy to make at home!
Pizza is one of my favorite foods, and we've been making our own favorite pizza combos at home for years. I love throwing various ingredients on top of a pie and seeing how they turn out. I also love homemade pizza the night before any road race.
Unfortunately, it's been so darn hot that we haven't wanted to turn on the oven for any length of time.
The solution?
Grilling our pizza!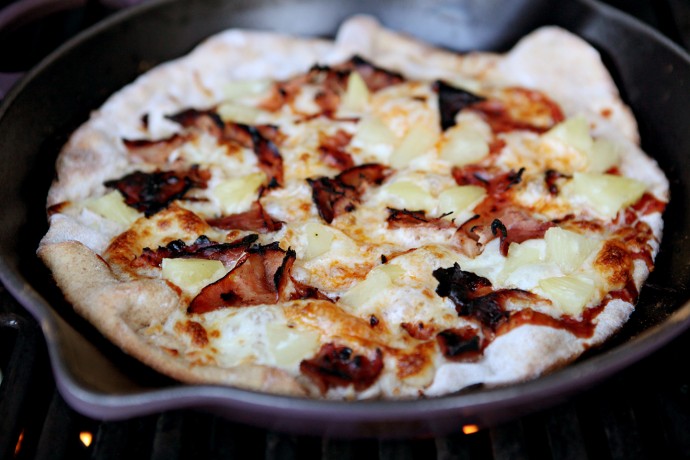 I was skeptical of grilling our pizza, to be honest, but it's a lot easier than it sounds. It's also absolutely delicious. And it takes a lot less time to cook.
I chose to cook our grilled pizza in a cast iron skillet, but it could easily be cooked directly on the grill if your grill is clean and flat. (The grates on ours are currently caving in, so I didn't want my toppings sliding into the fire.)
To cook the crust directly on the grill, roll it out thick, then cook for a few minutes on the first side. When it's ready (and if the grates are clean!), the crust should easily lift from the grill. Flip it, cook it for a few more minutes, then add the toppings and cook until the cheese is just melted.
If you're not wanting to grill it directly on the grates, use the cast iron skillet trick. That works nicely, too!
Who's up for some Hawaiian Pizza?
Here's how you make it:
Ingredients
1 pizza dough round (store-bought or homemade)
1/4 cup marinara sauce (store-bought or homemade)
1 cup mozzarella cheese
4 oz. honey ham, seared
1/2 cup pineapple chunks
Instructions
Preheat the grill to 400°F. Place a cast iron skillet on the fire, and close the grill lid.
Roll out the pizza dough into a round.
When the grill has heated to 400°F, place the pizza dough into the hot skillet.
Dress the dough with the marinara sauce, then top with mozzarella, ham and pineapple.
Cook for 5 minutes, or until the mozzarella is melted and the toppings have crisped.
Remove from the grill, slice, and enjoy immediately.
http://mycookingspot.com/grilled-hawaiian-pizza/
Have you ever grilled pizza?
What is your favorite homemade pizza recipe?
The following two tabs change content below.
Erin is a professional photographer and social media manager who has a penchant for baking and cooking. She discovered her love of all things in the kitchen during her collegiate years when she missed being able to cook her own meals, and as soon as she moved off campus, she began playing with her food... and has been doing so ever since. On her blog, The Speckled Palate, she shares tried and true favorite recipes from her kitchen, as well as new faves, as she creates new dishes and tinkers her way through some well-loved cookbooks.
Latest posts by Erin Skinner (see all)