I so missed the boat with this recipe.
Yesterday was National Tortilla Chips Day, but being out of state on vacation the last 7 days threw off my editorial calendar…so I'm a bit late with the corn chip confetti.
The good news is that you can celebrate the holiday any day! This fresh, delicious Blueberry Salsa with Homemade Tortilla Chips is a snack meant for every day, not just one!
I'm a big tortilla chip lover. Salsa, hummus, queso dip, bean dip…whatever is dippable, my chips are in.
Until now, though, I'd never made my own chips.
I mean, it's way easier to buy an oversized bag and just dig in, right? I'm all about instant gratification.
BUT. Hubby bought some corn tortillas by accident a few weeks ago, and I'm a faithful flour tortilla kinda gal…I didn't want them to go to waste, so I figured it was time to try my hand at homemade chips.
EASY with a loud, capital E.
I really need to stop using the "I don't have time" excuse, because I could easily prep a big batch of these in time for a party or get-together.
And the salsa? Could NOT be simpler. Subtract the garlic and tomato from an ordinary salsa, toss in some blueberries, and bam! It's a wonderfully fresh and different take on everyone's favorite dip.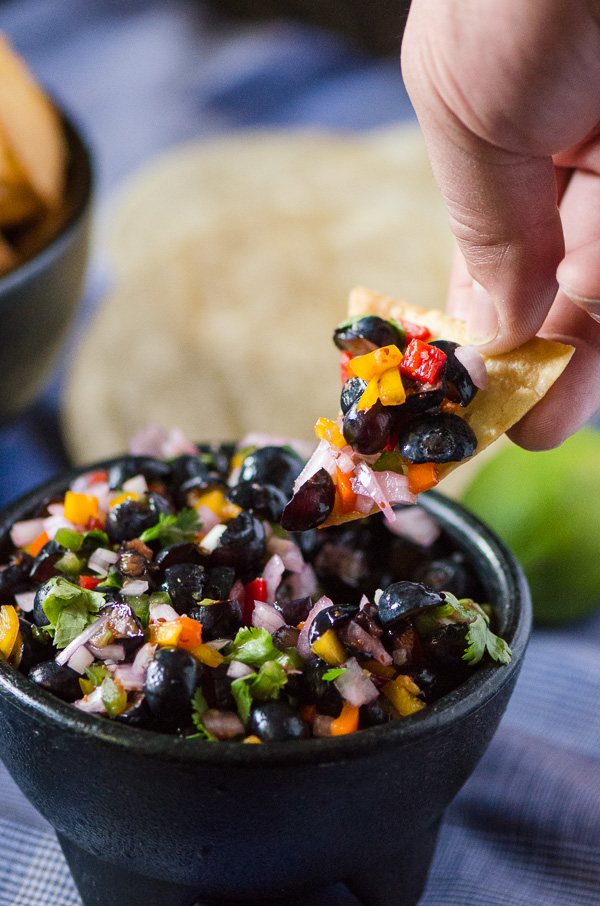 Blueberry Salsa with Homemade Tortilla Chips
Ingredients
Tortilla Chips

3/4-1 cup cooking oil
12 corn tortillas
Kosher salt

Blueberry Salsa

1 cup fresh blueberries, 1/4 c. left whole
1/4 red onion, diced
1 jalapeno pepper, seeded and diced
3 sweet peppers, seeded and diced
1/3 cup cilantro leaves
1 teaspoon lime zest
Juice of 2 limes
Instructions
Tortilla Chips

Heat deep fryer to 350 degrees F, or pour oil into a cold medium skillet to a depth of 1/8 to 1/4 of an inch and heat. Do not allow the oil to get so hot that it smokes.
Cut desired amount of tortillas in 6 triangles. Line a large plate with paper towels.
Place a handful of tortilla triangles into the hot oil, in a single layer. Use tongs or a slotted spoon to distribute the triangles evenly. Fry for about 2 minutes, until the chips just begin to become golden and firm.
Using tongs or slotted spoon, remove the chips from the oil and place on the paper-towel-lined plate. Sprinkle with desired amount of salt, and place another paper towel on the top of the chips.
Repeat with remaining chips, working in batches, until all are fried.

Blueberry Salsa

Combine all ingredients in a medium bowl. Toss to combine. Serve with freshly fried tortilla chips.
http://mycookingspot.com/blueberry-salsa-with-homemade-tortilla-chips/
Have you ever made homemade chips? What kind were they?
The following two tabs change content below.
Erica has baking in her blood. Raised by her homemaker Great-Grandmother, she was brought up in the kitchen, learning little hints and tricks that led her to her current bakery manager career. A native Floridian, she loves to enjoy everything her home state has to offer, especially when it comes to food. She often collaborates with her husband on recipes, and every once in a while, her dog, Vader, gets the scraps! Her blog, The Crumby Cupcake, is fairly new, but she is trying to carve out her little corner of the internet with her originality, creativity, humor, and beautiful food photography. Throughout her adventures, she hopes to inspire others to create delicious food and live happy lives by sharing her joy, both in the kitchen and out.
Latest posts by Erica Acevedo (see all)