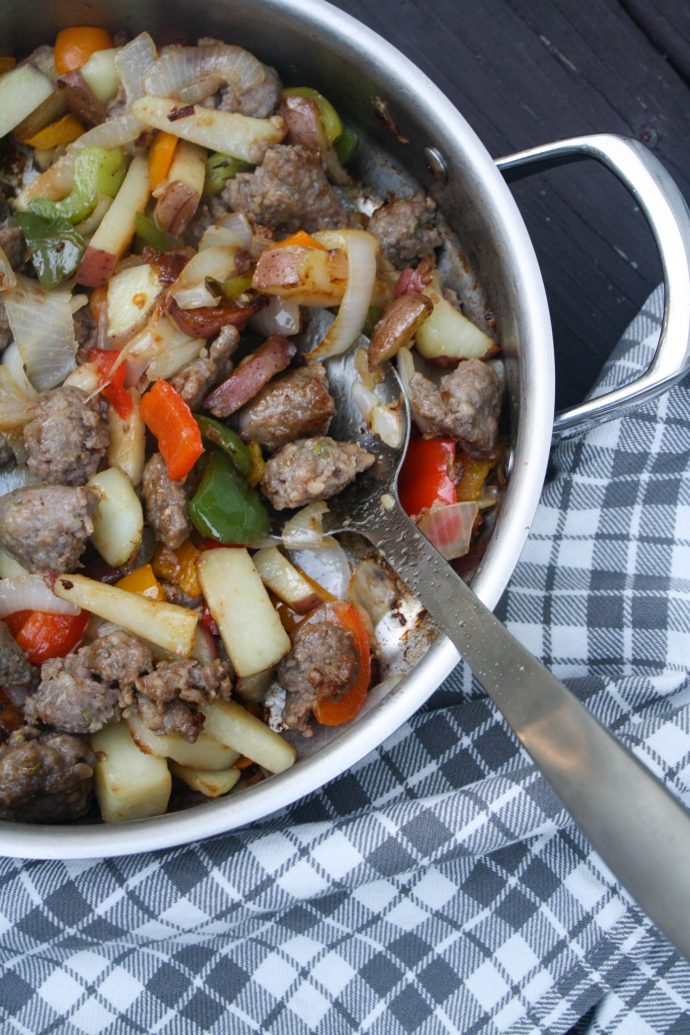 Try this easy, healthy dinner idea tonight! Hearty Sausage Skillet requires only a few minutes of prep work and is ready in under 30 minutes. This flavorful dish is going to be a hit with your family!
I'm Jenna from A Savory Feast, bringing you a tasty new dinner idea to try this week!
Are you trying to eat better in the new year? I'm trying to get back on track after the holidays and having a baby last year. One of my goals for this year is to eat more vegetables. Skillet recipes like this one are a great way to get a variety of vegetables into one meal.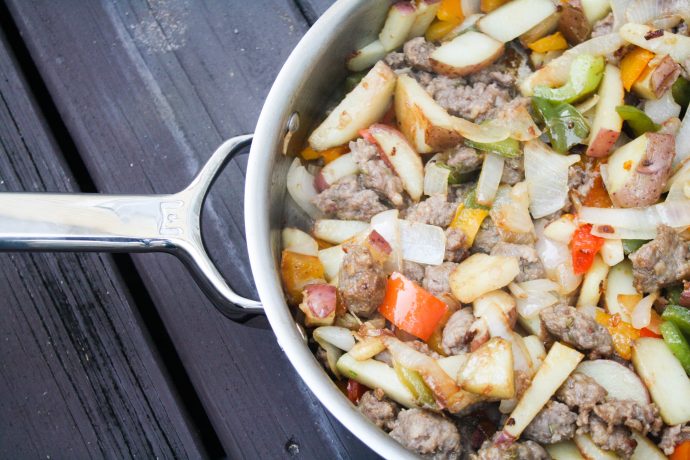 This year I'm getting back into the habit of meal planning for the week and going shopping to get lots of healthy ingredients. That way, I don't resort to getting takeout as often.
Italian sausage has been on our regular meal rotation a lot lately. It's so flavorful and can be used in so many different ways. I love how much flavor it adds to this dish!
Ingredients
2 medium red potatoes, cubed
2 bell peppers (any color)
1 medium onion, cut into slices
1 (16 oz) package italian sausage
2 tablespoons olive oil
Instructions
Heat the olive oil in a large skillet over medium high heat. Add the potatoes and brown on each side (about 5 minutes, stirring every couple of minutes).
Add in the bell peppers and onion, cook for about 10 minutes or until tender. In the meantime, remove the filling from the italian sausage and brown in another skillet.
Once the italian sausage is cooked throughly, add it into the veggies.
http://mycookingspot.com/hearty-sausage-skillet/
The following two tabs change content below.
Jenna is a food blogger at A Savory Feast where she shares creative recipes, kitchen tips and tricks and foodie road trips. She is an advocate for a healthy, balanced lifestyle. Her blog reflects that with lots of better-for-you recipes and tips on eating healthier. Of course, everything in moderation! She likes to enjoy an indulgent treat every so often. When she's not cooking or blogging, Jenna enjoys visiting the beach, traveling, playing volleyball or relaxing with a good book.
Latest posts by Jenna Owens (see all)