This Strawberry Pina Colada Smoothie may look like a cocktail, but I promise you, this vegan, gluten-free treat is meant for breakfast!
So after the sugar fest that was Tuesday's s'mores recipe, I decided I need to clean up my noshing habit a bit and try to snack a little bit on the healthier side. So, of course, I'm here to share the tasty results of my latest experiment with you!
Let me just put this out there; in case the name of my blog didn't give it away, I adore sweets and desserts – chocolate, ice cream, cupcakes, brownies – they're mostly my favorite things to eat in the world. I rarely skip dessert when we go out for dinner, and I almost always have some sort of sweet snack somewhere in the house. I'm also a wannabe gym rat, and I have a pretty good grasp on moderation.
When I'm on my game (meaning meal prepping, lifting/working out 3-4 times a week, and generally giving 100% to my healthy life regimen), I make smoothies for breakfast every morning for myself and my husband, so I feel like I'm pretty good at coming up with tasty flavor combinations. Pina Coladas are one of my favorite cocktails to indulge in, so I figured it would make for a killer smoothie since the ingredients are fairly similar.
Then, I decided to toss some strawberry puree in the mix, and all of a sudden it became a Lava Flow, and I immediately wished I was on a cruise ship in the middle of the ocean, listening to steel drums and soaking up some sun by the pool.
Anyway, and I swear this is related, my husband and I are trying for our first child, and I've been really diving in to pregnancy research, especially what I should and shouldn't eat. Obviously, more veggies and fruits were at the top of the "eat more" list, which is fine by me since that particular slice of the food guide and I are pretty good friends.
Sure. I can cut back on some junk to eat some sweet, juicy, peak season strawberries. Blended and on top of even more fruity deliciousness.
This smoothie is made with all natural ingredients and is pretty low calorie, so you can get in a serving or two of fruit and not feel guilty; and even though I'm not, it's also vegan and gluten-free! If you wanted to, you could throw some chia seeds or protein powder in there and make it a pre- or post-workout recovery drink.
Not in to almond milk? Doesn't hurt my feelings, go ahead and use light coconut milk if you want to still keep it lower fat – I've had it that way and it's just as delicious but slightly thicker, so you'll need fewer ice cubes. And if you're looking for a sweet and milkshake-style smoothie, full fat coconut milk will do the trick.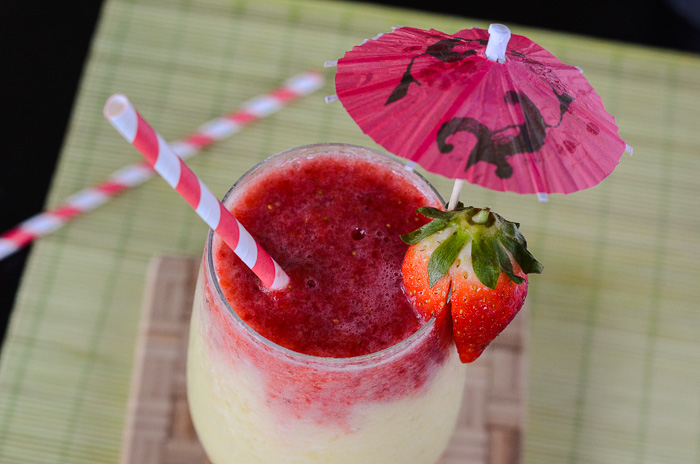 And if you decide to spike it with some coconut rum…well, I won't blame you, but at that point I'm pretty sure it's just happy hour.
Strawberry Pina Colada Smoothie
Ingredients
1/2 cup pineapple juice, chilled
3/4 cup coconut almond milk
1 ripe banana, fresh or frozen
1 1/2 cups pineapple chunks, frozen
1/2 cup ice
1/2 cup strawberries, fresh (about 5-6 berries)
Instructions
In a blender, combine all ingredients except strawberries. Blend until mixture achieves desired consistency/fluffiness.
Divide smoothie between two glasses and set aside.
Without washing the blonder, add strawberries and 2-3 ice cubes and pulse until blended.
Pour strawberry puree on top of smoothies. Using a straw, push some of the strawberry puree in to the smoothie, creating a spike effect.
Garnish and enjoy.
http://mycookingspot.com/strawberry-pina-colada-smoothie/
Oh, and while we're talking about babies, congratulations to my fellow contributor, Erin, who finally popped out her sweet Lady Baby this week! We can't wait to meet her!
The following two tabs change content below.
Erica has baking in her blood. Raised by her homemaker Great-Grandmother, she was brought up in the kitchen, learning little hints and tricks that led her to her current bakery manager career. A native Floridian, she loves to enjoy everything her home state has to offer, especially when it comes to food. She often collaborates with her husband on recipes, and every once in a while, her dog, Vader, gets the scraps! Her blog, The Crumby Cupcake, is fairly new, but she is trying to carve out her little corner of the internet with her originality, creativity, humor, and beautiful food photography. Throughout her adventures, she hopes to inspire others to create delicious food and live happy lives by sharing her joy, both in the kitchen and out.
Latest posts by Erica Acevedo (see all)